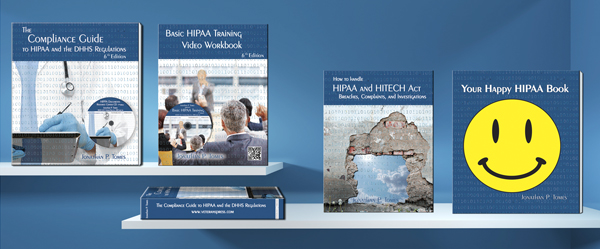 HIPAA Compliance Library
Our Business is to Make Your Business HIPAA Compliant.
HIPAA Compliance Library, including the HITECH Act and the Omnibus Rule (Mega Rule) change.
Veterans Press understands your first priority is patient care, so why not use our HIPAA books, manuals, and guides to help with your HIPAA compliance efforts? From basic HIPAA training to complicated HIPAA policies, procedures, and forms, Veterans Press has the HIPAA Compliance Tools to help you meet the DHHS requirements. Our HIPAA Compliance Library, written by nationally recognized HIPAA expert, Jonathan P. Tomes, consists of the following:
The Compliance Guide to HIPAA and the DHHS Regulations, 6thedition, by Jonathan P. Tomes, covers:
HIPAA Privacy and security regulations and standard transactions and code sets, all updated.
HITECH Act changes to HIPAA.
HIPAA compliance checklist, updated with HITECH Act requirements.
HIPAA Documents Resource Center CD, 6thedition, by Jonathan P. Tomes, includes:
Gap Analysis Survey Kit, Risk Analysis ToolKit, and How to Write a HIPAA Policy.
More than 70 documents, including the following HIPAA policies, procedures and forms:
Access Authorization Policy.
Access Control and Validation Policy.
Access Establishment Policy.
Access Modification Policy.
Addressable Implementation Specification Policy.
Breach Notification Letter.
Breach Notification Policy.
Business Associate Agreement Incorporation Omnibus Rule Provisions.
Business Associate Policy.
Cell Phone Security Policy.
Clearance Procedure.
Complaint Procedure.
Confidentiality Agreement for Custodial Service.
Data backup Plan.
Data Use Agreement.
De-identification and Limited Data Set Policy.
Designated Record Set Policy.
Destruction Policy.
Device and Media Control Policy.
Disaster and Emergency Mode Operation Plan.
Disclosure to Family Members Policy.
Disclosure to Law Enforcement Po0licy and Procedure.
Disclosure to the News Media Policy.
Electronic Signature Policy.
Email Informed Consent Form.
Email Policy.
Emergency Access Procedures.
Emergency Mode Operation Plan.
Fax Policy.
Fundraising Policy.
Handling Requests for Correction/Amendment Policy.
Health Information Disaster Plan.
Health Information Physical Security Policy.
Health Information Security Policy.
HIPAA and HITECH Act Workforce Policy Awareness Form.
HIPAA Privacy Complaint Form.
Hybrid Entity Policy.
Information System Activity Review Policy.
Internet Security Policy.
Isolating Health Care Clearinghouse Functions Policy.
Key Personnel Appointment Checklist.
Limited Data Set Policy.
Log-in Monitoring Policy.
Maintenance of Facility Access Controls Policy.
Marketing Policy.
Media Controls Policy.
Media Destruction and Reuse Policy.
Medical Records Content Policy.
Minimum Necessary Policy.
Movement of PHI Policy.
Notice of Privacy Practices. (Omnibus Rule Change)
Password Policy.
Patient Access to PHI Policy and Procedure.
Person or Entity Authentication Policy.
Personnel Security Policy.
Portable Computer Policy.
Privacy Officer Job Description.
Protection from Malicious Software Policy.
Records Processing Policy.
Red Flag Policy.
Release of Information Policy.
Remote Access Policy.
Report Procedure Policy.
Request for Accounting Policy and Procedure.
Request for Alternate Communications Policy.
Request for Correction and Amendment Policy and Procedure.
Request for Restriction Policy and Procedure.
Responding to Government Search Warrants, Subpoenas, and Request for Documents Policy and Procedure.
Response Procedure Policy.
Retention of Health Information Policy.
Risk Analysis Policy.
Sanction Policy.
Security Officer Job Description.
Social Media and Social Networking Policy.
Social Networking Policy (prohibiting use).
Security Policy.
Telemedicine Security Policy.
Termination Procedure Policy.
Testing and Revision Policy.
Text Messaging Policy.
Training Policy.
Transcriptionist Policy.
USB and Flash Drive Security Policy.
Visitor Policy.
Work-at-home Policy.
Workstation Use Policy
Your Happy HIPAA Book includes tabs for, explanations of, and resources to help you with the following items that you will need to gather to put into Your Happy HIPAA Book to prove that you are HIPAA compliant:
Evidence of management commitment to HIPAA compliance.
Documentation of appointment of key personnel with job descriptions: Privacy Officer, Security Officer, and Compliant Official.
Gap Analysis.
Documentation of Risk Analysis, including updates.
Training records, including copies of lesson plans, handouts, and the like, and attendance records.
Copies of all of your policies and procedures.
Copies of business associate agreements.
And much more.
Basic HIPAA Training Video with Workbook, 6thedition, a one-hour video on HIPAA basics presented by Jonathan P. Tomes, will help you meet initial and annual HIPAA training requirements. Order enough copies of the accompanying workbook so that each employee and staff member can have a copy for daily reference, order the online version and get certification after completing the test. The workbook includes a test on the material in the training video and in the workbook that the employer can place in employees' files to prove that the organization has met the HIPAA training requirements.
Handling HIPAA & HITECH Act Breaches, Complaints, and Investigations: Everything That You Need to Know, 2ndedition, by Jonathan P. Tomes with the following highlights:
How to determine whether it is a breach.
How to report and respond to suspected breaches.
How to mitigate breaches.
How to notify DHHS, the media, and individuals who are the subjects of breaches.
How to respond to HIPAA complaints and investigations.
Checklist for handling breaches.
Premium Member
New HIPAA, HITECH Act and Omnibus rule change policies and procedures editable in Microsoft Word.
White paper for management on why complying with HIPAA, the HITECH Act and now Omnibus rule change has become more critical than ever before.
HIPAA & HITECH Act Compliance FAQs section containing Jon Tomes' answers to questions from HIPAA training seminar attendees.
Opportunity to ask HIPAA questions and get answers from a nationally recognized HIPAA expert, Jonathan P. Tomes
Complete HIPAA Compliance Library costs $595, plus shipping and handling.
(If bought separately, these valuable resources would cost nearly $900.)
If you prefer to order offline via phone, fax, or snail mail and want to print out the contact information and an order form to do so, click here.
Currently out of stock
We are currently out of stock for this item. We apologize for any inconvenience.