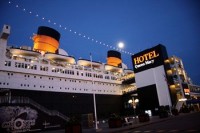 Is your organization's HIPAA compliance lost at sea? As you may know, EMR Legal, Inc., is offering our 2-day Hands-on HIPAA Workshop October 16-17 aboard the Queen Mary docked at lovely Long Beach, California. The deadline for registering is approaching soon, and we wanted to let our blog readers know that only a few seats are left. So please sign up now if you have planned on attending.
If you have not yet decided to attend, consider these questions:
Do you have an updated written HIPAA Risk Analysis?
Have you written, adopted, implemented, and enforced all of the required, addressable, and optional HIPAA policies and procedures that you need based on your Risk Analysis?
Have you trained your entire workforce on HIPAA in general and on your policies and procedures in particular and documented that training in writing?
Do you have all of your HIPAA compliance documents filed in one handy place, such as Your Happy HIPAA Book?

Are you ready for the next round of Department of Health and Human Services ("DHHS") audits?
If you are having some difficultly honestly answering yes to any or all of these questions, then give us a call to sign up for the upcoming Hands-on HIPAA Workshop.
If you are currently owners of our HIPAA compliance books, DVDs, and CDs, you will receive a discounted rate for the workshop, and because you are receiving this reminder from our free HIPAA & HITECH Act blog by Jonathan P. Tomes, the early-bird discount will continue to apply.
Who Should Attend?
All professionals and key personnel with access to patient information in any setting should attend this workshop, including the following:
Physicians.
Business associates (transcription services, vendors of electronic health records, billing services, debt collection companies, document storage services, and destruction services, among others).
Business and office managers.
Administrators.
Financial and accounting personnel.
Mental and behavioral health professionals.
Health care consultants.
Nurses.
Dentists.
Pharmacists.
Hospital administrators and department heads.
Nursing home administrators.
Medical records personnel.
Medical practice managers.
Home health agency and hospice managers.
Therapy and rehab professionals and managers.
Laboratory technicians and managers.
Medical equipment providers.
Assisted living facility administrators.
Ambulatory surgery centers.
Medical records managers.
Hands-On HIPAA Workshop
October 16-17, 2014, aboard the Queen Mary, Long Beach, California
Agenda
Day One.
9:00 a.m. –10:00 a.m.
Jonathan P. Tomes
Introduction, including the current state of HIPAA enforcement and recent changes.
10:00 a.m. – noon
Jonathan P. Tomes and Richard D. Dvorak
Evaluation of attendees' gap analyses. Attendees will receive a gap analysis form to fill out before the workshop so that the faculty can assess where the attendees are compliant, where they are not, and how to bridge the gap and get compliant. Onsite, EMR Legal consultants will go over individual gap analysis evaluations with attendees.
Noon – 1:00 p.m.
Lunch
1:00 p.m. –5:00 p.m.
Jonathan P. Tomes and Richard D. Dvorak
Risk analyses. Faculty will teach attendees how to perform a risk analysis and walk them through one for their facility.
6:30 p.m.
The Queen Mary's Dark Harbor Tour. Attendees will receive tickets to Long Beach's famous Dark Harbor festival at the heart of the Captain's Carnival offering two brand new mazes and the new Voodoo Village. Beloved veteran characters, including The Ringmaster and all grotesque spirits of the Queen, will make a chilling return.
Day Two.
9:00 a.m. – noon
Risk management. Faculty will have experts to assist attendees in implementing the three areas of security measures:
Administrative safeguards.
Physical safeguards.
Technical safeguards. The faculty will include a technical security expert who will give a presentation on penetration testing.
Noon – 1:00 p.m.
Lunch
1:00 p.m. – 2:30 p.m.
Michael Bosch
Updates on security harms. Director of Information Security for EMR Legal, Mike Bosch, will take you on a journey into the mind of a hacker. What motivates a hacker, and what toll could that take on your business if unaware? How do hackers learn their craft? How do hackers discover vulnerabilities and methodically exploit them? Is it time to consider penetration testing on your organization's secured network to avoid a costly breach of protected health information ("PHI")? This valuable information will help you manage your information security risks and provide insight as to how to step up safekeeping of PHI.
2:30 p.m. – 5:00 p.m.
Alice M. McCart
Writing policies. Attendees received Jonathan P. Tomes's The Complete HIPAA Policies and Procedures Guide, with a CD that has samples of all required and addressable policies, along with some optional policies, and the new Your Happy HIPAA Book to help you keep all your HIPAA documents in one easy location. Alice McCart, an attorney/editor, will teach how to write a policy, and EMR Legal experts will review attendees' policies as they complete them.
Also included are the following:                    
Training. Attendees will receive Tomes's 50-minute HIPAA training video, which satisfies both security and privacy initial and periodic refresher training.
Opinions as necessary. Faculty members can provide opinions on the validity of HIPAA policies and other documents.
Individual sessions. The workshop will include time for attendees to get assistance with any areas that they had not finished during the allotted time. For example, attendees who did not complete the risk analysis could use that time to do so with help from one of the faculty members.
Note: All times are estimates.
Call our marketing director, Patrick R. Head II, toll-free at 855-341-8783 or email him at patrick@veteranspress.com to sign up to attend our upcoming two-day Hands-on HIPAA Workshop aboard the Queen Mary, anchored in Long Beach, California, October 16-17, 2014.